Snake repellents
Finding the top snake repellent is crucial if you're looking for a way to get rid of snakes. In this article, we have compiled all the information you need to make your own choice and get rid of unwanted snakes for good!
Top Snake Repellent
What will keep snakes away?
Next to keeping a tidy home and avoiding any food scraps that might attract them from choosing your home as a nesting place, the traditional and best repellent for snakes is owning guinea fowls; they are also called guinea hens.
Admittedly, these hens are not everyone's cup of tea, as they can be quite annoying with their noisiness, so you have the choice of several different repellents and traps to chase snakes off and prevent snakes from coming to your home.
What home remedy keeps snakes away?
Before taking any other steps, we always recommend you make your home and garden unattractive to snakes.
How do I keep snakes from coming back? You remove their food sources and shelter first and foremost! We wrote another blog post on what snakes like to eat, and their number one favorite prey are small rodents like mice.
Make sure your home and yard are entirely rodent-free and store your pet food, bird feeders, and trash away from wild creatures.
Feed pets indoors and don't do anything that might attract snakes, and prevent snakes from entering your backyard and flower beds.
Cut down long grass, scrub, and undergrowth. Please remove any hiding places for snakes in your garden like rubbish piles, uneven ground, or puddles that might attract them as a habitat.
As far as natural snake repellents go, many people also take advantage of snake repellent plants. They do not kill snakes but might irritate a snake's senses and deter snakes in an environmentally safe way. A snake's sense of taste or smell is susceptible to strong scents like lemongrass, garlic, basil, or onions, for example. So just by planting them in garden areas, you are actively repelling snakes from your home.
What is the best snake repellent?
There are differences in what method and product works best at keeping snakes away, depending on the snake species and size. Every snake species is slightly different in what attracts them, and there is a massive difference in dealing with a snake infestation if poisonous snakes are involved.
As a general rule, having precautions to make your home unattractive to snakes and mice and having a snake-proof fence installed around your property are the best things you can do to avoid snakes becoming a problem.
The best thing you can do is let a professional wildlife removal company access the snake problem for you! They will determine precisely the snake species you are dealing with and find a solution in cooperation with you that will keep snakes gone for good!
If you are uncomfortable with this solution, we have compiled a list of products for you at the end of this article that are considered the best serpent repellents by Amazon users.
Read through reviews of repellents yourself before making a purchase. With a bit of research, you can find the perfect snake repellent for your needs.
Remember that all DIY steps you take by purchasing a snake fighting product online do not come with guarantees, as we cannot look at your snake problem ourselves.
What smells will keep snakes away?
The most effective snake repellent will contain natural ingredients like essential oils that snakes do not like the smell of. Citronella, cedarwood, clove, lemongrass, peppermint, cinnamon, and garlic essential oil can be used.
You can make your own homemade snake-fighting product with these essential oils or buy a ready-made mixture.
Another cheap and common substance you probably have at home that repels snakes is ammonia. Again, be careful when using this around people and pets as it can be toxic.
What is the longest-lasting snake repellent?
This all depends, as already mentioned, on the type of snake and level of infestation you are dealing with. In general, it is best practice to combine different strategies and repellents after consulting a professional wildlife company.
What are the best commercial snake repellents?
Several types of commercial repellents are available on the market, but they don't all work equally well. The two main types of commercial serpent repellents are ultrasonic and electromagnetic.
Ultrasonic snake repellers work by emitting high-frequency sounds that are meant to scare away snakes. However, there is no scientific evidence that these devices actually work, and they can be expensive.
Electromagnetic snake repellers emit an electromagnetic field that is supposed to disrupt the snake's nervous system and keep them away. These devices are also unproven and can be expensive.
One of the most common snake repellents is a product named Snake-A-Way. It is a granular repellent that you sprinkle around your property, and it contains naphthalene and sulfur, which snakes do not like the smell of.
What is the best natural snake repellent?
There are several different types of natural repellents that you can use to keep snakes away from your home. As we mentioned, essential oils like Citronella, Cedarwood, Clove, Lemongrass, Peppermint, Cinnamon, and Garlic will repel snakes. You can make your own homemade repellent with these essential oils or purchase a ready-made liquid.
We do not recommend the use of mothballs! Many people think that mothballs are also an effective snake repellent.
Mothballs are made from naphthalene and will repel snakes (and other pests) because they cannot stand the smell. However, mothballs are toxic to people and pets and should only be used as a last resort in well-ventilated areas by professionals.
Be aware that using them for something other than their intended purpose might be illegal where you live.
Ammonia is another cheap and common substance you probably have at home that repels snakes. Like mothballs, the pungent smell will bother snakes and send them running the other way. Again, use caution when using this around people and pets as it can be toxic.
What is the best way to scare a snake away?
The best way to keep poisonous snakes from your home is to make your property less attractive to them.
Remove any potential food sources like rodents or insects, and remove any hiding places for snakes like tall grass, scrub, and undergrowth.
Please get rid of debris piles, uneven ground, or puddles that might attract them as a habitat. If you have poisonous snakes in your area, it is also important to have a snake-proof fence installed around your property.
We have compiled some of the best-ranking Amazon snake repellents for you in this list!
Should you decide to purchase through the links, we receive a small commission as Amazon Affiliates.
Exterminator's Choice – Snake Defense Spray bottle
Keep venomous and non-venomous snakes away from your garden, doors, windows, and more.

Use inside and outside, with naturally derived, non-toxic formula that is safe for your yard and family (when used as directed).

Repel most common types of snakes including Garter Snakes, Rattlesnakes, Copperheads, and many more.

Apply easily and quickly with just a few simple sprays to begin protection.

formula made from essential oils— which are safer than toxic pesticides, but still hated by snakes.
Ortho Snake G Gon
Prevents snakes from entering, nesting and foraging

Safe for people, pets and plants when used as directed

Delivers long-lasting and rain resistant performance

No-stink formula using essential oils

Ready-to-use formula
Get rid of snakes by taking away possible food sources to eliminate attracting their prey also!
Bonide Repels-All Animal Repellent
STRONG REPELLER – This unique blend of ingredients causes mild irritation to animal's nasal passages. When an animal touches, tastes, or smells Repels-All Animal Repellent, it triggers the natural instinct to escape/avoid and the pest leaves.

ANIMALS AFFECTED – Granules repel species of squirrel, deer, rabbit, chipmunk, mouse, skunk, rat, beaver, raccoon, porcupine, bird, groundhog and more rodent species.

DEFEND YOUR GARDEN AND HOME – Apply around homes, gardens, garbage cans, barns, swimming pools, sheds, woodpiles, decks, patios, and campsites to prevent grazing, chewing, gnawing, nibbling and browsing damage to plants and property.

BIODEGRADABLE – Repels-All granules are biodegradable and will not harm animals, lawns, flowerbeds, or other desirable plants when used as directed.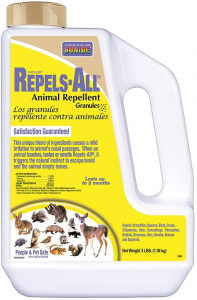 Natural Armor Rodent Shield
 POWERFUL PEPPERMINT ESSENTIAL OIL FORMULA – Long Lasting Indoor & Outdoor Protection. Use To Protect Against Rodents, Mice/Mouse & Rats

 READY TO USE SPRAY – Easy To Use, Just Shake & Spray. No Messy Traps
In case you do not mind strong chemicals, this product contains sulfur and naphthalene but is also very effective against all types of snakes. Just use it with extra caution because of its ingredients!
Snake-A-Way Outdoor Snake Repelling Granules
Repels Snakes Outdoors – These granules begin working immediately to repel venomous and non-venomous snakes, such as garter snakes or rattlesnakes

Controls by Scent – The granules temporarily disrupt snakes' olfactory sense organ, sending them in search of fresh air

EPA-Registered – Use this product with peace of mind knowing that Snake-A-Way is the only EPA-Registered snake repellent

Long-Lasting – One application of Snake-A-Way lasts for up to 3 months; Reapply after heavy rain for best results

Protects up to 1/2 Acre – Use the granules along the perimeter of outdoor areas you want to protect, such as houses, cabins, gardens, and more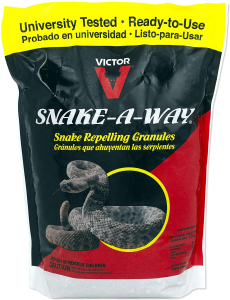 If you have any comments or questions, please post them below!
Please also see our lists of rabbit repellents and deer repellents for further product recommendations.