If you're looking for a way to get rid of rodents, finding the best rodent repellent is crucial. In this article, we have compiled all the information you need to make your own choice and get rid of unwanted rodents for good!
Best Rodent Repellent
What is the best repellent for rodents?
Next to keeping a tidy home and avoiding any food scraps that might attract them from choosing your home as a nesting place, the traditional and best repellent for rodents is owning cats. Besides that, you have the choice of several pest repellents and traps to chase mice away. But once you find one, chances are you are dealing with a rodent infestation. It is highly advisable to contact a wildlife removal or pest control company for help. This way, you can make sure you get rid of the rodents for good.
When you purchase a repellent, be careful that your chosen product is safe! Check the ingredients list before you use it around your family, children, and pets. Make sure you are by yourself and without your little ones before applying it. This is especially important for living areas. Of course, efficacy is needed when you want to repel mice. But there is always a safe alternative that banishes mice or other pests. And you can do this without harming your loved ones with strong chemical fumes. Just choose a more natural, non-toxic repellent without chemicals.
What home remedy keeps rodents away?
Besides the already mentioned steps to keep mice or rats away in the first place, there are repellents with all-natural ingredients. They have proven effective and deter rodents from choosing your home as a habitat.
Make sure you remove access to your bird feeder and trash cans and use other methods to discourage wildlife from choosing life in your yard and home. If no food is available, rodents will not choose your home as a target and search elsewhere when scavaging for food or shelter.
Many people believe in using essential oils like balsam fir oil, peppermint, and cinnamon oil. Applying these scents prevents mice from chewing on things or settling down. Suppose you find mice already inside your house and not in a limited area like a garden shed or other areas close to farm equipment or stored vehicles. In that case, we strongly advise calling in professional help because sometimes repellents alone are insufficient when rodents are already settled in properly.
What smells will keep mice away?
Usually, anything that smells fresh, like balsam fir oil, peppermint oil, and cinnamon oil, has a reputation for being a rodent repellent. Essential oils are also a safe option in living spaces and enclosed areas like in your car, and their fresh scent is pleasant enough for most people. At the same time, a spray repels mice, most squirrels, and other critters and is rather fast-acting.
Do electronic rodent repellents really work?
When you mention electronic rodent repellents, we assume that you are referring to an ultrasonic pest repellent device or ultrasonic pest repellers that emit ultrasonic waves to frighten away mice, rats, and other small animals by sound. If they work in your case, is possible but not guaranteed because results may vary. It depends on the case of infestation and if the methods are used by yourself instead of working with a pest control company. There are usually no guarantees when it comes to DIY pest strategies.
We suggest the usage of a combination of both ultrasonic and biological pest repellers like repellent sprays for best results to avoid mice infestation to start with. They have both proven useful in many cases, but it all depends on the level of the rodent infestation you are dealing with.
As already mentioned, in most cases, once you have a rodent nest in your house, they are unfortunately not strong enough, and you will need mouse traps and a professional pest control company to help.
In this list, we have compiled some of the best ranking Amazon mouse repellents for you!
Should you decide to purchase through the links, we receive a small commission as Amazon Affiliates.
Best Rodent repellents
Tomcat Repellents Rodent Repellent Ready-to-Use
No stink, essential oils formula is safe for use around kids and pets (when used as directed)

Long-lasting and rain-resistant formula

100 percent money-back guarantee

Inside and outside rodent prevention

Keep mice and rats out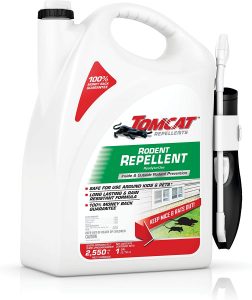 Rodent Sheriff Pest Control Spray – Made in The USA – Ultra-Pure Mint Spray to Repel Rodents
Made with all-natural peppermint oil, SAFE to use around pets and children but rodents hate it! MADE IN AMERICA

Safe to spray in your home or garden. Rodents naturally dislike the smell of this handcrafted peppermint formula and will repel pests almost immediately

Contains one 8 ounce bottle of all-natural peppermint power – Enough for 1,000 sprays

Proven to repel mice, raccoons, roaches, & more

Use anywhere that's prone to pests – Garages, basements, kitchens, attics, sheds, trash cans, & more

Natural Armor Rodent Shield
  POWERFUL PEPPERMINT ESSENTIAL OIL FORMULA – Long Lasting Indoor & Outdoor Protection. Use To Protect Against Rodents, Mice/Mouse & Rats

  READY TO USE SPRAY – Easy To Use, Just Shake & Spray. No Messy Traps

  FOR INDOOR USE – Spray Anywhere In Your Home. Will Not Stain. FOR OUTDOOR USE – Use Wherever You're having An Issue With Unwanted Rodents

NATURAL – Friendly For People, Pets & The Environment When Used According To Directions

100% MONEY-BACK GUARANTEE – OUR PRODUCT WORKS. Not Satisfied? We'll Refund Your Money, No Questions Asked.
Kate's Garden
Rodent Repellent Spray with Peppermint Oil to Repel Mice and Rats
CHILD AND PET-SAFE SPRAY: Made with soap and peppermint oil to repel mice and rats. Safe to use around pets and children. Repels and kills insects, roaches, and flies. This spray is biodegradable, cruelty-free, and has no harsh chemicals.

LONG LASTING MICE REPELLENT: Prevents rodents, mice, raccoons, spiders, bugs, insects, and ants from crawling all over your house, basement, attic, yard, and car engine. Simply spray around windows, doors, under sinks, cabinets, and appliances.

REPELS RODENTS & MICE WITH PEPPERMINT OIL: Repels rodents, mice, spiders, insects, flies, roaches, and ants and keeps them away. This eco-friendly rat repellent and deterrent can be used indoors and outdoors and contains no artificial colors or fragrances.

NATURAL INGREDIENTS: Made with natural ingredients in the USA. A refreshing and pleasant scent to keep your house smelling good while driving rodents and pests away. This 16oz peppermint spray for rodents has up to 2,000 sprays.

NATURALLY EFFECTIVE. Protect against rodents, mice, and raccoons using our non-harsh peppermint oil spray formula. Cruelty-free, biodegradable with natural and organic ingredients. Made in the U.S.A.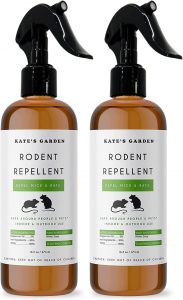 Spritz Rodent pellets – Made with Peppermint Oil to Repel Mice and Rats
Made in USA

Outdoor use lasts 3 month and in container up-to 12 month

Safe around children and pets! So you ca Use it every where

Economical very large 32oz jar much cheaper and long lasting than sprays

A very high peppermint percentage the highest on the market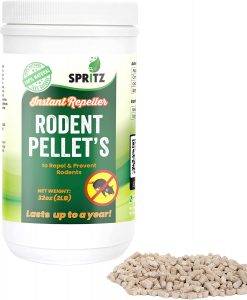 Victor M809 Mouse and Rat Repellent Natural Non-Toxic Spray for Indoor and Outdoor Use Ready to Use
Naturally repels mice and rats by scent and taste

Non-toxic essential oil formula can be used indoors or outdoors

Ready-to-use spray can be used around the perimeter of the home

People and pet safe when used as directed

32 oz spray bottle covers up to 67 linear feet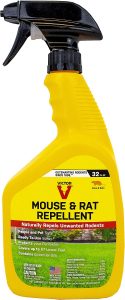 Y8Y Ultrasonic Pest Repeller,4 Pack Mouse Repellent, Electronic Pest Repellent Ultrasonic Plugin
✔Using the upgraded chip technology: the pest repeller transmitted through the air of special elements to stimulate the mosquito's sensory system and nervous system.
✔Wide Effective Coverage: This rodent repellent indoor ultrasonic is suitable for 1600 square feet of area, It's widely used in homes, warehouses, offices, gardens, hotels, etc, repelling many kinds of pests.
✔Easy to use: Just bug repellent plug-in. It will start to repel the pests when the blue night light is on.
✔Comfortable home: Pest repellents are noiseless, no chemical, no poisons, no radiation.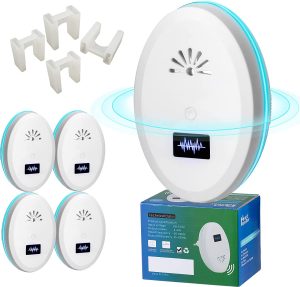 We hope that you find this article helpful! Should you have any comments or questions, feel free to post them below!